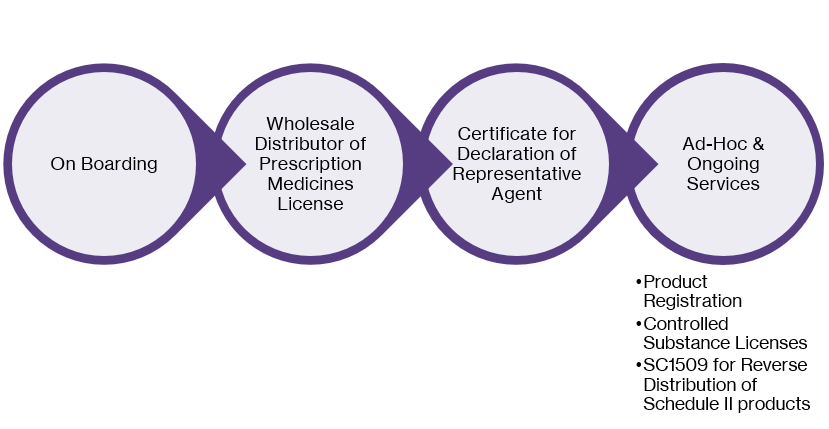 How Puerto Rico's New License Requirement Affects Industry
Written-by: Sumeet Singh, CEO
Pharma Solutions has received updates from the Puerto Rico Secretary of the Department of Health in which the Non-Resident Wholesaler online applications are now available.
The PR DOH has established a deadline of August 15, 2022 to submit and come into compliance with the new regulations prior to the Department of Health possibly issuing sanctions including the imposition of fines and execution of the required bond for non-compliance.
The online portal is now open along with required documents that will need to be completed and uploaded with the application. As with any changes, Pharma Solutions is working with the Department of Health to clarify some questions and requirements.
Act 234, which is the regulatory updates by the PR DOH, references a number of key definitions from P.R. Laws Title 20 § 407. Definitions, and are provided below:
Key Definitions from 2019
Representative agent — Any person authorized and registered with the Secretary to represent any medication manufacturer or distributor in the marketing thereof, without being involved in the storage, distribution, or dispensation of the same.
Distribution — The wholesale sale or distribution of drugs to establishments authorized and registered by the Secretary, as provided by this chapter.
Wholesale Medications Distributor — Any person duly authorized and registered by the Secretary who is engaged in the wholesale distribution of prescription drugs to authorized establishments, including but without being limited to manufacturers, repackagers, own or private label distributors, wholesaler drugstores, intermediaries, agents, including manufacturers' and distributors' warehouses, chain drug warehouses, and independent wholesale drug trader, and retail pharmacies that conduct wholesale distributions.
Updates to Regulation (New Permits)
The PR DOH has created a new set of permit types (i.e. licenses) for companies transacting business on the island, per below:
Wholesaler prescription drugs
Wholesaler non-prescription drugs
Wholesaler Homeopathic, Natural products, and/or Nutritional Supplements
Medical Device Distributor (Rx and OTC) – per DOH if:

Device is FDA Approved – no license required

Device is not FDA Approved – license required

Veterinary Wholesaler prescription Drugs

Veterinary Wholesaler non-prescription drugs
There are varied requirements for each of these licenses, per below:
1. Fee: $1500 plus service fees/application type
2. Certification of Surety Bond: Very specific that the bond must be produced by an underwriter located on the Island
3. Certification of Compliance with PR Drug Registry
4. Negative Certification of Crime – Designated Rep
5. Certification of Compliance with Annual Sales report
6. Self-Certification of Compliance
7. Medication Registry: This is not available yet, but, in the near future, there will be a Medication Registry application in which the certificate will be good for 2 years. However, you will still need to register new products or changes following the current process.
Guidance
1. Multiple product categories: If a company distributes products from multiple categories, a license will be required to meet each product category.
2. Registered Agent Certificates: For those with pending RA Certificates, the online portal has been opened up and requires the upload of your Wholesaler License.
3. Business Model specific:
Virtual Manufacturer: At this time, PR has not provided guidance regarding the Non-Resident Wholesaler license for Virtual Manufacturers. However, we believe that Virtual Manufacturers will be qualified as wholesale distributors per the definition of Wholesale Medications Distributor above. In an abundance of caution with August 15th approaching, we are recommending that Virtual Manufacturers start collecting the required documents for submission.
3PL: At this time, PR still has not provided guidance regarding the Non-Resident Wholesaler license for 3PLs per the definition of Wholesale Medications Distributor above.
Puerto Rico Assistance
If you need assistance with Puerto Rico filings or have additional questions, please email us at hello@pharma.solutions or complete our contact us form.
To receive more articles like this and other industry news, make sure to subscribe to our newsletter by clicking here.
Disclaimer: Pharma Solutions makes every effort to provide accurate information in the content it offers. However, the information provided is "as is" and Pharma Solutions makes no warranties, express or implied, as to the content provided. Pharma Solutions assumes no liability or responsibility for any errors or omissions in the content provided. Laws and regulations that are referenced herein may change over time and as such the content offered is not to be interpreted as advice. Pharma Solutions shall not be liable for any damages whatsoever incurred in connection with the use or performance of this information.