NCDQS 2021 Recap
NCDQS has experienced extensive success in 2021, as industry and state regulating bodies recognize the value of transparency and efficiency in Accreditation and Inspection programs. Highlights include Wyoming's approval of the QAS Accreditation program and that 30+ companies leveraged the QAS Inspection program in Q4 of 2021 to meet state regulatory requirements.
Mississippi
State regulation of the drug supply chain is always evolving, and 2021 had its fair share of developments. Of note was Mississippi's strict enforcement of its "recent home state inspection" requirement. A recent home state inspection is required as a pre-requisite to licensure in many states that require virtual manufacturers to obtain a license including: Arkansas, Iowa, Idaho, Maryland, Minnesota, Mississippi, New Hampshire, New York, Oklahoma, South Dakota, Utah, Vermont, Washington, Washington DC and West Virginia.
Unfortunately, some state regulatory agencies do not provide inspections to virtual manufacturers. For example, the Pennsylvania Department of Health (PA DOH), doesn't license virtual manufacturers like it does wholesale drug distributors – instead, it provides a "Letter of Record" which confirms that the virtual manufacturer has made the PA DOH aware of their operation in the state. A second example is Tennessee, as the Tennessee Board of Pharmacy licenses but does not inspect virtual entities in their state.
States often accept an exemption letter or other explanation for lacking a state inspection. In 2021, however, Mississippi has begun to strictly enforce its inspection requirement as a prerequisite to licensure – if a home state inspection was not available, they would instead require an inspection performed by a third-party, with NCDQS being approved as of June 2021. Since then, NCDQS QAS Inspection program has helped over 30 companies meet the inspection requirement across nine (9) states: California, Florida, Georgia, Kansas, Massachusetts, Minnesota, Pennsylvania, Washington, West Virginia.
Wyoming
Similar to the inspection requirement for licensure in Mississippi, Wyoming requires that wholesale drug distributors obtain Accreditation as a prerequisite to their wholesale drug distribution license. An important development in 2021 was that Wyoming has officially started requiring that virtual manufacturers obtain a wholesale drug distributor license – and by extension, obtain accreditation.
After significant due diligence, the Wyoming Board of Pharmacy approved NCDQS' QAS Accreditation Program during their June 2021 meeting. Chief Inspector & Compliance Officer, Keith Bennett RPh, was "not… able to find any substantial differences between [NABP DDA and NCDQS QAS]."
Find the relevant minutes of the June 16-17 Wyoming Board of Pharmacy Meeting here: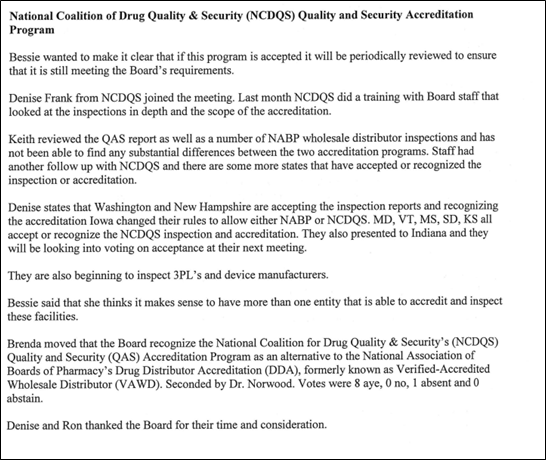 Next Steps
Our experienced team is ready to personally manage your licensing portfolio. We handle new applications and manage renewals with the same dedication. Whether you are entering new markets or renewing your standings in existing ones, Pharma Solutions is here to help. Schedule a free consultation today!