COVID-19 Shortages: Boom or Bust for Business?
This week, we explore how to legally and ethically navigate supplying products during the pandemic. It is the wild west in the hospital supply business – from illegal import practices and price-gouging to ingenious manufacturing and extra hours.
The pandemic has caused a spike in demand (and critical shortages) of Personal Protective Equipment (PPE) and test kits. Industry response to shortages has been swift, as there is an opportunity to serve not only traditional customers like hospitals but the American public at large. American manufacturers have increased production as much as possible and/or retooled their manufacturing lines, while distributors have applied pressure on their domestic and international manufacturing partners.
However, the mayhem has also resulted in unscrupulous and/or fraudulent activities – including illegal import practices, low-quality products, price gouging, and empty promises.
For how COVID-19 has affected drug supply chains, please read our previous here and here.
EUA & Validation for Importation of Test Kits 
The immediate need for testing across America is putting significant pressure on test kit manufacturers. 
In early February, the FDA issued an Emergency Use Authorization on test kits which shaped the way test kits were to be produced and used. First, the FDA is now working exclusively with the Centers for Disease Control and Prevention (CDC) to authorize COVID-19 testing. Next, it allows test kit manufacturers to apply for authorization to sell their test kits – to date, 43 companies have applied and been approved accordingly (see here). However, many of the test kits submitted to the FDA are simply inaccurate, especially serological tests. 
Molecular tests are designed to diagnose an active COVID-19 infection (specifically from the SARS-CoV-2 virus), and serological tests help identify individuals who have developed an immune response to the virus by detecting antibodies produced by the individual. 
To try and cut down on bad test kits, FDA is now requiring validation for serological tests per their Serological Test Validation and Education Efforts guidance released April 18, 2020.
Validation is the performance of internal testing to ensure products are working as intended. To minimize the number of false-positive results, FDA mandates that serological tests must be well-designed to specifically identify antibodies against SARS-CoV-2 and not "cross-react," or provide positive results when encountering antibodies against other respiratory viruses.
Personal Protective Equipment (PPE)
As the COVID-19 is transmitted via airborne particles and liquid (coughing and sneezing), the use of PPE is a must for both healthcare workers and the American public. 
N95 vs. KN95 vs. Surgical Masks  
Due to the lack of product, the government recommends that more sophisticated "N95" face masks be reserved for healthcare workers actively exposed to the virus, whereas "surgical" and cloth face masks should be used by the general public. A surgical mask is a loose-fitting device that creates a physical barrier between the mouth and nose of the wearer and potential contaminants in the immediate environment. An N95 respirator is a respiratory protective device designed to achieve a very close facial fit and very efficient filtration of airborne particles. The 'N95' designation means that when subjected to careful testing, the respirator blocks at least 95 percent of very small (0.3 microns) test particles.
So what are KN95 masks that have been widely offered? They are, simply, a less effective version approved by the Chinese government as an equivalent to the N95 mask. Each is manufactured by 3M and captures 95% of particles above a certain size (often 0.3 microns).
Other Issues
We have received questions from distributors, consultants, and lawyers on deals surrounding masks. 
The biggest issue is a question of counterfeit goods – 3M products are manufactured across the globe and distributors have a hard time 'authenticating' medical supplies. Unlike prescription drugs with Transaction History, there is little a company can do to authenticate that an N95 is legitimate and not counterfeit. And so many times, distributors are lured into taking deals, with the promise of easy sales and big margins. We recommend that companies only purchase a product from authorized 3M resellers to avoid putting American healthcare workers at unnecessary risk.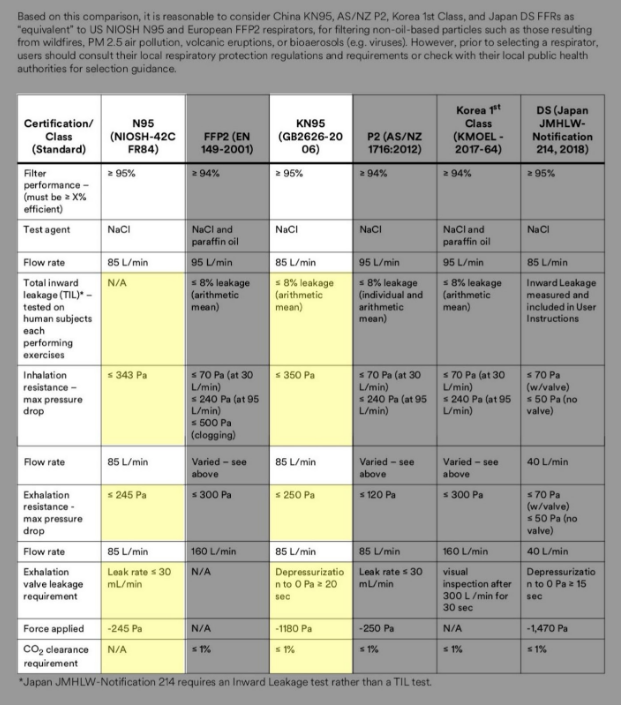 For products other than masks, questions still remain. There are viral videos where healthcare workers in a French hospital are putting on a surgical gown, only to have it disintegrate and literally float away (video here). It is critical for distributors to inspect goods before accepting a product and, more importantly, before sending it to their customers.
Next Steps
For any questions or concerns about buying or selling product, please reach out to us!