Nevada Levies $17.4 Million in Fines on Diabetes Drug Manufacturers
The State of Nevada shocked the pharmaceutical supply chain last month by levying an unprecedented $17.4 million in fines due to deficient reporting by drug manufacturers of prescription drugs that are essential for treating diabetes in Nevada.
Behind the Fines
The Nevada Department of Health and Human Services (DHHS) first sent letters in August 2019 threatening to assess fines for deficient annual reporting (either no reporting or not substantial enough). Under Nevada law, the fine is $5,000 per day for non-compliance. The annual reports are required to include costs (production/manufacturing, expenses), profits, and more (rebates, financial assistance/coupons). All this information is then analyzed to help the state determine how and why medical expenses to treat the disease are so high.
The fines range from $735,000 for a company that submitted the required drug pricing data 147 days after the reporting deadline to $910,000 for eight companies that have yet to report the required information. However, The Nevada DHHS will allow the companies to file informal dispute resolutions so that the fined companies may end up paying a lesser penalty, or even have the penalty waived.
2019 Report
A substantial amount of interesting statistics were pulled from the 2019 report.
Drug manufacturers earned an average of $1.58 in profit for every $1 they spent on the production and administration of diabetes drugs in 2017
4% of manufacturers had a significant price increase during the previous one- and/or two-year periods
0% of NDCs experienced both a one- and two-year significant price increase
7% was the average two-year EDD price increase
The 2019 version of the report can be read here.
Reporting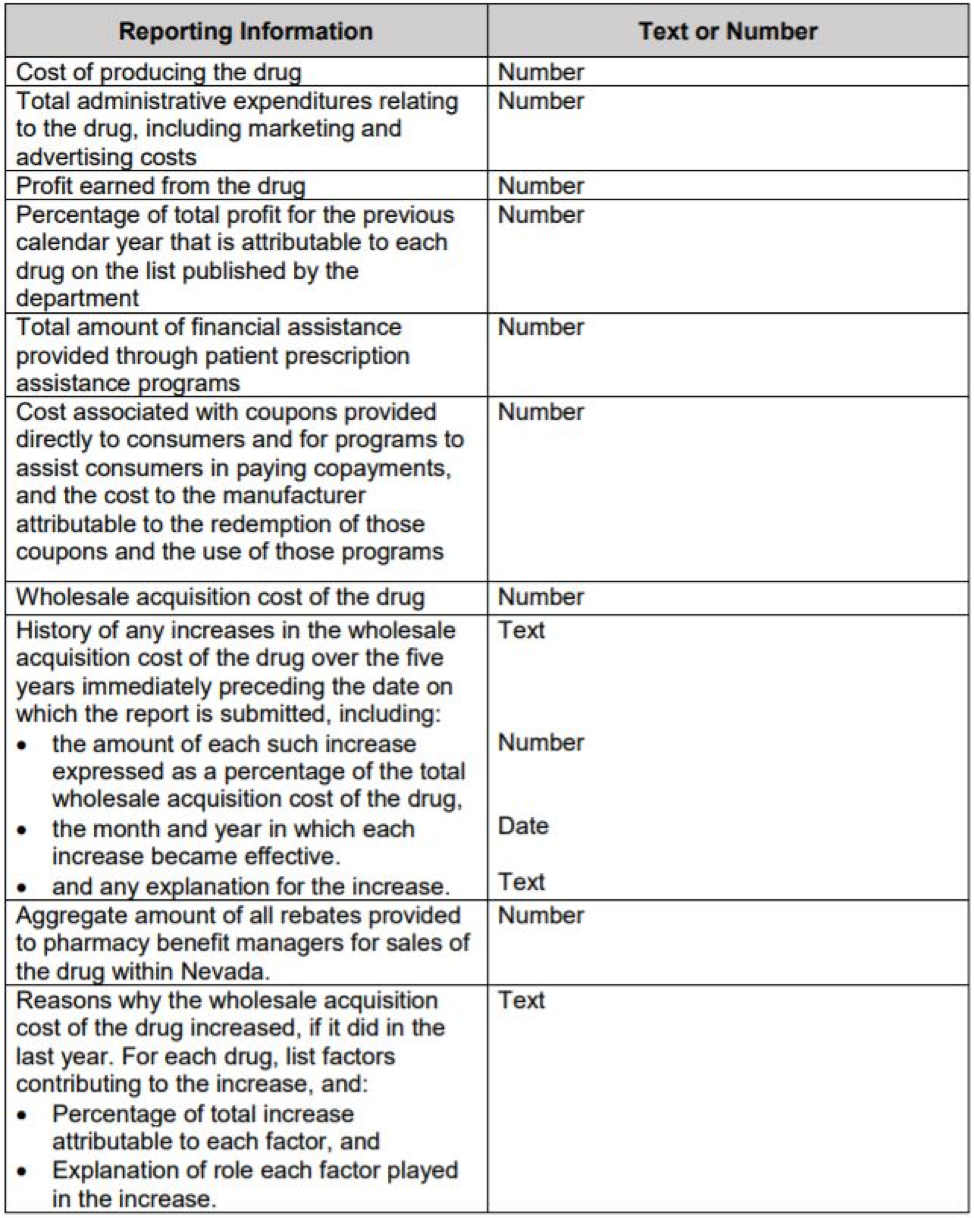 Background: The Law
In 2017, multiple laws were codified that specifically lay out multiple requirements for the manufacturer of a prescription drug included on the list of essential diabetes drugs:
NRS 439B.630: Department must annually compile lists of certain prescription drugs essential for treating diabetes.
NRS 439B.635: Manufacturer of certain essential diabetes drugs to prepare and submit annual report: cost of producing drugs, administrative expenses, profit, financial assistance, coupon, WAC, history of WAC, aggregate rebate paid to PBM and any additional information as requested.
NRS 439B.640: Manufacturers that have undergone a substantial cost increase must submit to the Department a report concerning the reasons for the cost increase.
NRS 439B.645: Pharmacy Benefit Managers must report certain information concerning essential diabetes drugs to the Department.
NRS 439B.695: The Department shall impose an administrative penalty against a manufacturer, pharmacy benefit manager, nonprofit organization, or pharmaceutical sales representative who fails to provide the required information.
NRS 439B.650: The Department shall analyze the information submitted by such manufacturers and compile a report concerning the reasons for and effect of the pricing of essential diabetes drugs.
Going Further: Asthma Drugs
Gov. Steve Sisolak signed a bill, SB262, in May 2019 that would expand Nevada's drug pricing transparency law to asthma drugs. The law officially took effect on October 1, with the first reporting deadlines for asthma drug manufacturers slated for 2020.